Summer is a brilliant time to get your brand's name out there. Food festivals, beer festivals, street parties, parades and sporting events are on, especially since the kids are out of school. Getting your brand noticed isn't just about getting a spot at an event and talking to people. It's about leaving a lasting impression on those you do talk to. How do you make sure they remember your brand among the multitude of others who attended the same event as you?
Giving away products looks great for your brand. Giving away higher ticket items makes your company look great, and you'll become associated with great feelings. We recommend giving away smaller products such as pens and wristbands with every enquiry. Items which cost more to produce are best given away to hot leads. A fun way to give away high ticket items at an event is by holding a competition at your table. This gives you a chance to win something 'big' like a hat or beach ball while drumming up some interest around your company and getting people involved.
Transportable
During the summer months, event-goers are going to be very hot and probably a bit overstimulated at some point. They will have packed the bare minimum and be carrying bottled water. What they don't want to be carrying around with them is a tote bag full of leaflets and heavy brochures. That's an easy way to get your promotional material put in the bin before it even gets to someone's car.
Your promotional material should be small enough that it's not a bother to carry it with you. If it is, then it should provide something for the person carrying it. A perfect example of this would be a weepul.
These are cute, fluffy and have sticky feet so they can be carried on bags, t-shirts and hats while being no extra burden. These are great for events with children, as they'll all want a googly-eyed bug for themselves. One downside to these is that they're often thrown away, lost or destroyed by the end of the day. However, they're quite cheap to make and if the weepul does make it home then they can stick around for ages.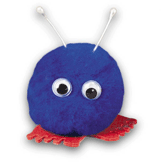 Weepuls often come with long strips of paper attached where you can fit your company name, logo, slogan and contact details. These can be annoying for the wearer though, so they often get ripped off and thrown away. Don't take these too seriously and use them instead of leaflets and business cards, as their main purpose is to be cute, fluffy and draw families and kids to your table
Another option would be buttons and pins. These are slightly more permanent, less likely to fall off and more customisable. Buttons can be produced on a mass scale and given out to anyone who passes by your table. However, they're too small to fit a slogan on without it being nearly impossible to read, so it's best to stick to just a logo.
Wearable
During the summer, people are more likely to be wearing less. Shorts, t-shirts and trainers are a popular combination. With people's wrists and arms on show, bracelets and wristbands would make an ideal item to give away. They're visible to both the wearer and others who see it. If you make them fashionable enough, then they're wearable on an everyday basis which is great for your company.
Another summer-centred giveaway item could be sunglasses. These are more expensive to produce than other items, so it's best that these are given away as part of a purchase, to identified hot leads or even in a competition to increase brand awareness. Everyone needs sunglasses in the summer, and having something that can be used every day with a logo on it will keep your company in your prospect's minds.
If you don't want to go down the sunglasses route, another idea is baseball or bucket hats. These are great as they also provide protection from the sun, as well as having more space for a logo and slogan.
Having something to give away that is both wearable and adds value to your customer's day is great, as they don't have to carry anything extra and they'll be happy to wear it and show it off.
Useable
Providing a usable item which can be used again and again is a great way to keep your brand fresh in the minds of your prospects. For the summertime, what better way of accomplishing this than producing branded water bottles?
Water bottles have plenty of space on them for a logo, slogan and company contact details. These can be quite expensive to buy and very easy to lose, so anyone would be thankful to have one especially during warmer temperatures. They're surprisingly cheap to produce at decent qualities and make great prizes for winners of small competitions run at events.
Fun
If you're going to a festival or outdoor event as a business, providing something fun is a great way to entice people into coming to see what you're about. Footballs, frisbees and beach balls are reusable, cheap to produce and have enough space for branding on them. They're durable and families will always be grateful to receive something for the kids to keep them entertained. Your product could end up being used anywhere – beach, park, back garden.
Generally, these products will make great giveaways for hot leads and prizes for competitions at events, especially with kids and young adults.
Of course, some of the products listed here won't be applicable to every company and every event. If you're attending a school or networking event, pens and highlighters are a great choice. If you're at a sports event, water bottles and t-shirts would be more appropriate. This is just a rough guide to which products are more popular in the summer months. Think about your company carefully and how you want to come across to the public at each event.